Xmas Dinner & Presentation Night
The club held it's 2016 Xmas Dinner & Presentation Night at the Max Hazelton Aero Centre on Saturday 3 December. This was the first time this annual event had been held at the club premises.
About 50 members & guests came along to enjoy the festivities and hear a very inspiring talk by special guest Ben Morgan, Executive Director of the Aircraft Owners and Pilots Association, or AOPA as it is more commonly known. AOPA is the main advocate for General Aviation in Australia, and is currently working to bring about reforms to reverse the ongoing decline in the industry. They are also pressuring CASA to overhaul the current AvMed system, and bring in reforms designed to allow thousands of pilots who've been grounded unfairly, to return to the skies.
During the evening, presentations were made to Orange Flight Training students Luke Kelly and David Jarman who completed their Pilot Certificate during the year, and to several club members for exceptional service to the club.
Pilot of the Year, taking out the Ross McLennan Memorial Trophy, was Luke Kelly, who has achieved this at 16 years of age, and in his first year as a pilot. Runner up was Allan Brown, the previous trophy holder and in third place was Mark Holle, who recently moved to USA for employment reasons.
Here's a few photos from the night...
Relief for Jab Engine Operators
It's been over 18 months since CASA released it's Instrument limiting the operation of aircraft powered by Jabiru engines, as a knee-jerk reaction to reported engine "incidents". The original Instrument of December 2014 was renewed in July 2015 for a 12 month period.
To it's credit, CASA conducted in-depth studies of various reports, and worked closely with the manufacturer, to determine just what the issues were, and which engines were affected.
There is still an Instrument in force with much the same restrictions as before, but now engines of the latest configuration, which are maintained in accordance with the manufacturer's directions, are exempt from all the restrictions.
Orange Flight Training's engines meet all those requirements and are exempt from all restrictions imposed by the Instrument.
Boeing 717 Visits Orange
Although pretty well dwarfed by the Antonov, the biggest Jet Airliner to visit Orange Airport to date is Qantas Link's Boeing 717.
It was conducting a charter to Groote Eylandt - outbound last Thursday and returning Monday this week.
OAC refuelled it both ways - 3900 litres on the way out then another 2500 litres on the return trip.
Au

stralia's Biggest Morning Tea
In spite of the abysmal weather conditions which meant that no aircraft could fly in, the event was certainly successful, with an estimated 150 people coming through the doors in the two hours or so.
There was an enormous amount of food available, such that much of the excess was packaged up and sold to guests, increasing the return to the Cancer Council. A raffle was also conducted for ten $25 gift vouchers donated by local businesses, and this was won by a visitor from Parkes.
The funds raised for the Cancer Council should be somewhere in the vicintity of $1400.
A big thanks from the club to members, friends and businesses who put so much into the event, and especially to Stuart Porges, who devoted an enormous amount of time and effort to it's success.
The photo gallery below shows some of the pictures from last year.
Piper Society Training Weekend Visit
This is yet another initiative of the Orange Aero Club. We are to host a visit by the Australian Piper Society to conduct a PPP training weekend. This is largely built around a training day on the Saturday involving getting back into the books and some practical piloting skills with qualified instructors.
The itinerary at this stage is that a number of aircraft will be arriving on Friday 11th September and I would like to invite as many members and their partners to come along on the Friday night for a 'meet and greet' get together BBQ at the MHAC. We need to know numbers for catering ASAP so that we can accommodate everyone.
On Saturday there will be 2 separate courses running concurrently. The PPP for aviators, and a "Partners in Flight" course for ...... Yes you guessed it 'Partners'!
These courses are not limited to Piper owners only so I encourage you to nominate yourself and/or your partner if you're interested. (I have been to one of these courses previously at Narromine and I certainly got a lot out of it.) The inclusive cost of the weekend for participants set by the Piper Society is $200, or $300 if taking part in the flying segment. Further details can be found on the Piper Society Website, and the link to the Orange Event on that website.
We have made a booking at "Kate Jones @ One Nineteen" restaurant in Moulder Street for 7pm on the Saturday night. All are welcome, all you need to do is to confirm with me by email, of your intention to attend so I can book the correct numbers for this dinner. It is a licensed premises so just bring yourself!
On Sunday morning there will be some visitors heading home but most will be here for a BBQ brunch joined by even more pilots from Sydney Flying Club. While many Piper people will head off about lunchtime, some may stay and I have organised a small bus to show them the sights of Orange for the rest of Sunday. Sunday night will be low key. Anyone staying over will head off after breaky on Monday morning. They will be staying at the Central Caleula Motor Inn.
What do you need to do?
Join in and be part of this aviation experience and welcome visitors to our great club. Let me or the secretary know asap for catering at the Friday night BBQ meet and greet. Join us for the dinner at Kate Jones @ One Nineteen on Saturday night Come to the Sunday morning brunch on 13th when Piper people and well as Sydney Flying Club will be here! Perhaps you can help with some part of the weekend. Please let the This email address is being protected from spambots. You need JavaScript enabled to view it.know.
I hope to see you over the weekend. Everyone is most welcome.
Regards
John Pullen - President
A Busy Day on the Fuel Truck
The recent snow falls throughout the Central Tablelands caused havoc for Essential Energy, with power line problems in many areas.
The club had a busy day on Saturday, fuelling helicopters patrolling power lines looking for faults. We fuelled three helicopters a total of eight times during the day!
The club operates the Jet A1 tanker truck on behalf of Aero Refuellers, and the income from this helps to fund the Aero Medical Transfer Facility, part of the Max Hazelton Aero Centre.
The McDonnell-Douglas MD500N pictured was one of the types fueled, though not one of the actual helicopters on the day.
GPS & OzRunways Training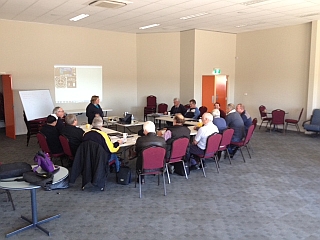 It was a busy weekend at the MHAC at the end of June!
The day after Australia's Biggest Morning Tea, Lyn Gray from FlyOz at Cowra conducted endorsement theory training on for a GPS endorsement.
This course is a pre-requisite for those looking to hold an instrument rating with a GPS endorsement.
Actually, its more correctly a GNSS endorsement - Global Navigation Satellite System, which includes GPS, the American system which is predominately used in Australia.
There were 13 starters for this course, and even those with a good prior knowledge were able to learn something, as well as gain the formal qualification.
The latter part of the day was devoted to the iPad application called OzRunways. This is a tremendously powerful flight planning and in-flight navigation tool used by GA and Recreational pilots throughout Australia and New Zealand, as a supplementary means of navigation.
Cross Strip Opened
Finally, the cross runway at Orange is open again!
It's the same length as it was before the works. As the grass hasn't taken on the southern extension and the taxiway E, these bits won't be opened at this stage.
Council staff advise that there may be a need to close it periodically after rain, as the areas adjacent to the bitumen gets soft after only a small amount of rain. It's also suggested, where practical that the take off roll for RWY 04 be commenced on the bitumen rather than at the threshold a few metres south of it. Access to both RWY 04 and RWY 22 is via a short backtrack of RWY 11 from TXY B.
Since being opened a few days ago, the wind has been predominately from the south-west, so enabling some flying which might not have been possible beforehand.