Origins
Orange Aero Club was originally established in the 1930's and, as sometimes occurs, has experienced a number of lives since. It's second life ended in mid 1980's.
On 17 March 1998, a public meeting was called to look at the possibility of reviving the Orange Aero Club. The meeting was held at the Victoria Hotel in Orange, and was attended by 26 interested persons and apologies were recorded from 13 others unable to attend on the night.
As a result of that meeting, a steering committee was elected to commence the process of reviving the club. This comprised Bob Nash as initial chairman, Stuart Porges as initial secretary and included Peter Grey, Ross McLennan, Leon Corcoran, Adele and Gavan Cook and Phillip Martin. The article at right was published in Orange's Central Western Daily shortly after the meeting.
So began the third life of Orange Aero Club! The first few years the club operated from the portable building adjacent to the AvGas bowser, courtesy of Wade Mahlo of WadeAir. It subsequently became "homeless" for a while, utilising Orange Aviation and Orange Flight Training's facilities for functions, before building and moving into the current premises.
Probably the first major activity of the newly re-formed club was a Family Fun Day in September 1998, which was very successful in promoting the club to the wider Orange community. The picture below is from the Central Western Daily promoting the event.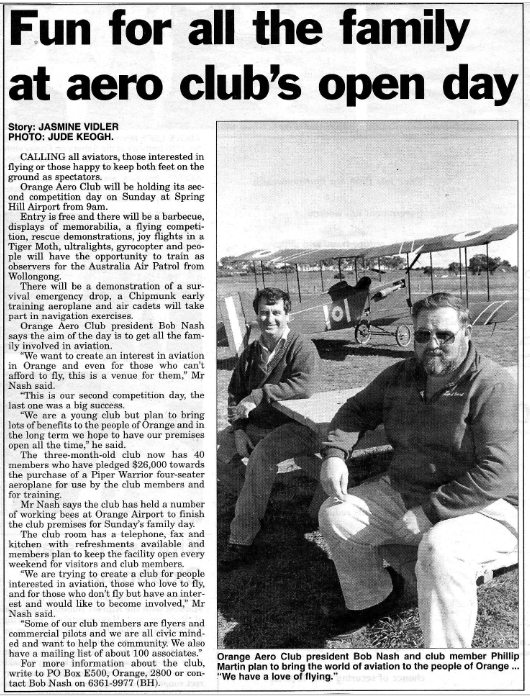 Over recent years there has been a marked increase in interest in recreational and general aviation in the district. This has flowed on to an ever improving level of aviation related business and activity at the aerodrome. The club membership steadily increased and at one stage had well over 100, consisting of full pilot, associate and junior members. Membership fees are currently $90, $45 and $30 per annum for these member categories. The club is active in developing and fostering social aviation activities, encouraging improved flying skills and experience including flight theory, promoting aviation related pathways for our members.
Aims of the Club
Member wide participation is encouraged through club committee meetings, monthly BBQ's, fly-ins, and major seasonal activities. Monthly BBQs encourage members to socialise in a relaxed atmosphere and be involved in some social flying. Currently, the club is staffed from 5.00 pm on Fridays, and members are encouraged to meet for a few drinks and nibblies at the well-stocked bar, being mindful of limitations imposed due to the Covid 19 pandemic. Where possible, fly-ins are conducted with neighbouring/regional clubs to promote aviation and comradeship generally. The club organises a major seasonal activity which can include a community project, for example Cancer Council Biggest Morning Tea, a club fly-in and open day, or flying away to an air show.
The Orange District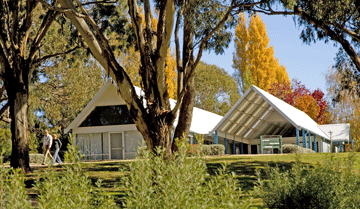 The Orange district, located in the Central Tablelands of NSW, has a robust and diverse economy. Orange is a picturesque location, well known as the Colour City for its autumn colours, grand homes, rolling countryside, the grandeur of Mt. Canobolas and nearby Lake Canobolas, bushwalking, and pleasant walks through well maintained parks and gardens. The food and wine culture of the district, wonderfully supported by a very active arts scene, is well known and regarded highly on peoples 'to do list'. The city is spoilt with a broad range of educational institutions including Charles Sturt University (focusing particularly on rural and regional health), public, private and secular schools, and TAFE. Orange Aero Club welcomes everyone with an interest in flying.
Page updated 30/3/21