Newsletters
Aero club newsletters took various forms, and were published with varying regularity. Initially, they were photocopied and mailed out to members, but as more & more members acquired email facilities, this became the preferred method of distribution.
Below are some sample headers - click on the header to download the complete newsletter as a PDF.
1999

2000

2008
2009
2010
2022
Origins
As mentioned under "History" on the public pages, the present generation of the club was the result of a public meeting at the Victoria Hotel in Orange on Tuesday 17 March 1998, which elected a steering committee to re-establish the Orange Aero Club.
Over the ensuing few months, a lot of work went on behind the scenes. Wade Mahlo of WadeAir very kindly made one of his buildings available for use by the club, but it required some work to make the club house presentable and functional. A working bee was held on Sunday 29 March to do just that, and while there's no record of those attending, a great deal was accomplished.
One of the early considerations was acquiring a club aircraft, and one of the possibilities being looked at was a Piper Warrior, pictured at right, although this didn't eventuate.
The steering committee presented their report to a meeting held at the Orange Botanic Gardens on Wednesday 10 June 1998, at which the first Committee of Management was elected. The principal Executives were Bob Nash as President, Peter Grey as Secretary and Gavin Cook as Treasurer.
During the subsequent months the first three rounds of the flying competition were held, and discussions progressed towards the purchase of a club plane, and the raising of the necessary funds to achieve this.
The next meeting of which records are held was a Committee Meeting at Orange City Council Chambers on Thursday 5 November 1998, which approved the purchase of Cessna 172F VH-ARK, then subsequently another committee meeting, this time at the club house, on 19 November 1998.
Archives
The club has some records from the early days of the re-forming of Orange Aero Club. These include minutes of meetings, newspaper clippings and copies of early newsletters. A selection of these are reproduced in the pages linked below, where links to others articles of interest can be found. These records are only available to financial members with a registered access code.
Club Clothing & Merchandise




P405MS/LS Navy/Gold Razor by BIZ Workwear Collection

SIZES Sizing Guide

Men's - S to 5XL

Ladies' - 8, 10, 12...to 24

FABRIC

100%

BIZ COOL™

Polyester Sports Interlock
155 GSM
UPF rating - Excellent

FEATURES

Grid mesh underarm panels for breathability
Unique sleeve print feature
Contrast panels and piping
Knitted collar with contrast placket

PRICING

Embroidered Logo Only - $35

Embroidered Logo and First Name - $40

Pick up at Aero Club

3FJ Navy Polar Fleece by JB's Wear Collection

SIZES Sizing Guide

Men's - S to 5XL

Ladies' - 8, 10, 12...to 24

Details

100% Polyester for durability
290gsm low pill polar fleece
Two front pockets
Adjustable elastic hem with toggles
Urban Fit

PRICING

Embroidered Logo Only - $40

Embroidered Logo and First Name - $45

Pick up at Aero Club

4046 Legend Life Cap - Signature

SIZES


One size fits all

The two-tone rollback sandwich trim is designed to highlight small insignia and logos.

PRICING

$20 embroidered with club logo

Pick up at Aero Club

Knitted Beanie

SIZES

One size fits all

PRICING

$18 embroidered with club logo

Pick up at Aero Club

Book - My God It's A Woman

DETAILS

Soft cover autobiography, new, personally autographed by the author.

In 1933, when women were still expected to man the nation's kitchens, 19-year-old Nancy Bird obtained her commercial pilot's licence.

In this autobiography, Nancy shares her memories of those early days
of aviation and her flying contemporaries, such as Jean Batten and
Amy Johnson. The book spans Nancy's flying experiences in the Outback,
her travels in Europe and America and to her flying comeback in the 1950s.

PRICING

Currently $20

Some on-line stores asking $30 plus postage for unsigned copies.

Pick up at Aero Club

Book - The Hazelton Story

DETAILS

Hard cover book covering the pioneering role of the Hazelton Family in Australian Aviation.

In particular, it covers the growth of regional airline
Hazelton Air Services by it's founder Max Hazelton OBE,
Patron of this club.

PRICING

$35

Reduced from initial price of $45.

Pick up at Aero Club
Order Form - All Fields are Mandatory
NOTE: When ordering multiple items embroidered with different names,

you need to
submit a separate order for each name.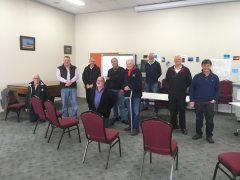 Management Committee
The club's Rules of Association provide that a Committee of Management be elected each year at an Annual General Meeting. The 2021 AGM was held on 5 March 2022 at 1130 am at the Club House, having been deferred due to Covid restrictions. There were thirteen members in attendance.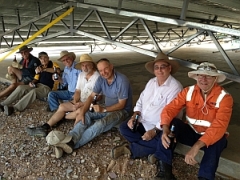 We're Anyone and Everyone!
Anyone and everyone who has an interest in aviation. It doesn't matter whether you're a fixed or rotary-wing pilot, or a non-pilot.
Function Centre
The Max Hazelton Aero Centre is available for hire for suitable functions such as
Conferences
Training Courses
Trade Displays
Club Meetings
Click on the image above to access all skycams
or go directly to your local airport of interest below
Location
Orange Aero Club is located at Orange Airport (YORG) in the Central Tablelands of NSW.
If travelling from Orange City, follow Peisley St to the south, where it becomes Forest Rd after it crosses the railway line. Turn left at the traffic lights, then right before the railway overpass. Then turn right again onto Huntley Road, just before the railway level crossing.
Reaching the airport, take the second gate, signposted "Airport Terminal" and use any of the terminal parking areas.
The club is in the Max Hazelton Aero Centre.